Chapter 2: Starting of SOCKADOO
Posted on
After speaking to many people to see if they would be interested in Sock Monkeys, I decided to give it a go and made 30 monkeys and went about selling them,they were loved and soon sold out.
It became clear from the reaction I had there was a market for these, and decided to go ahead with making it a business.
I had a product and needed a name and "Sockadoo" just came out when we were talking about names for the business, and after a short list of a few others we all agreed on "Sockadoo".
I started a facebook page for them and had loads of interest and booked my 1st Craft Fair............but then I saw something that caught my eye and I had to stop making them..... ALL TOYS had to carry a CE Mark for Toy Saftey weather they were made in a factory by big business or in a living room by small indivdual businesses.
I contacted my Local Trading Standards to find out how I went about this, but was still waiting for them to come back to me when I came across a group on FaceBook , they too were sock toy makers and had come across the same problem, due to changes to EN71 laws.The law regarding children's toys and CE marking changed back in July 2011 and the new Toy Safety Directive 2011 came into force. This meant that I needed to make sure my sock toys met all regualtions before I could sell again.
I purchased the Toy Safety pack from Conformance and sat reading it again and again, I read it about 10 times until I totally understood everything I was about to do. Thanks to the other ladies they had certs to start with for materials that I used and the only thing I had to change was my stuffing because my supplier couldn't give me the right documentation and had to go to his suppliers for it which would have took a while and I needed to get started so i changed to the stuffing we already had test reports/certs for.
My Husband had much pleasure doing the testing, hanging 7kg of weight off the seams, arms, face, tail, twisting, prodding, washing, setting alight all the test sock animals to make sure they passed.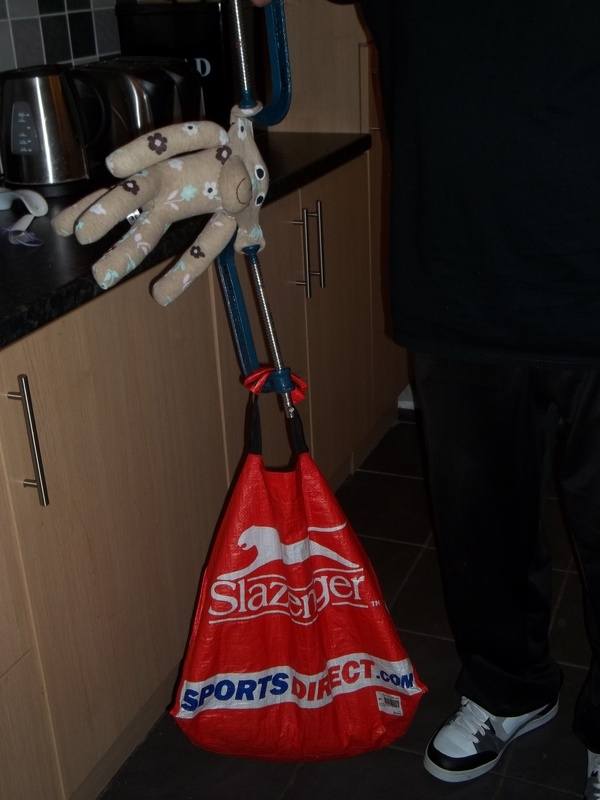 Here is the most recent picture of a monkey under going some torture to check seams.
Finally after lots of tears, Tantrums, and self doubt On 16th June 2012 My Monkeys and Cats had passed the CE Process and I could now get the pleasure of making them back...... Since then I have many more Animals all passed and this is ongoing, anything new I make I have to test before I can sell, and also have to do rechecks after certain time limits etc......
Testing of materials is on going too and new materials are becoming available all the time.